The auditors of JGU's staff unit Internal Auditing and Organizational Development (IR-OE) perform independent and objective auditing and consulting; they have unlimited right to information in order to fulfill their tasks. They are bound to treat as confidential all of the information which comes to their attention in the course of the audit.
We carry out our system and individual case audits according to our inspection plan or because of due cause, usually on the chancellor's instructions. Legality, objectivity, professional competence, and confidentiality are at the core of our work.
Our audits proof processes in regard to
• legality,
• correctness,
• efficiency and economy, as well as
• purpose
and are important tools for ensuring that
• structural and procedural organization and
• the internal information, control, and risk-management system
comply with these principles.
Results of these audits are discussed with the employees of the audited area, and together, options for change and a time frame for implementation are decided upon, since direct involvement in developing improvements is crucial for the actual implementation of the changes agreed on. If no suggestion for change can be found, the different opinions will be documented in the final audit report. The maintenance of the changes to be implemented (follow-up) follows the audit.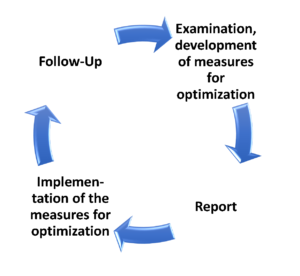 Our regular auditing areas are, in particular, third-party funded (research) projects and permanent advances/special paying agents.
Within the scope of audits by the Court of Auditors Rhineland-Palatine, we are the contact persons for their auditors and JGU employees, coordinate the inputs for the auditors, the answering of their requests or auditing notifications and follow up with the audit findings to be implemented.
We are happy to help with questions on the above topics, also outside of audits. You can call us (see the number on the side) or send us an E-mail.